Hey Everybody !!
Are you looking for something fun to do??
Why not come try rafting on the Tama river in Ome city, Tokyo!!!
Forest & Water Okutama base are operating every day and are ready to have some fun with you!!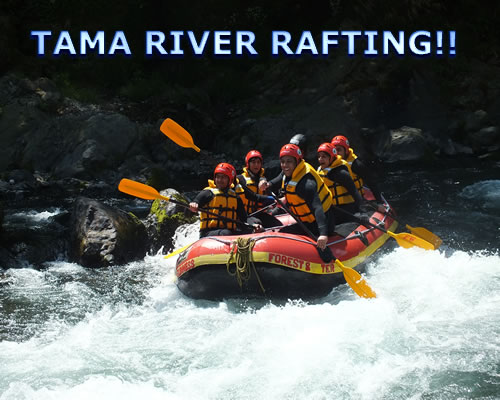 For Family
Have you got young ones and looking for something fun to do??
Why not bring them Rafting on the Tama river and introduce them to outdoor sports!! At Forest and Water Okutama base we take kids from 6 years of age rafting down the Tama river, playing games and jumping off rocks.
We have kids sized wetsuits, jackets and helmets so they will be as safe and warm as possible, we have even small paddles for the ones to small to handle the normal paddles!!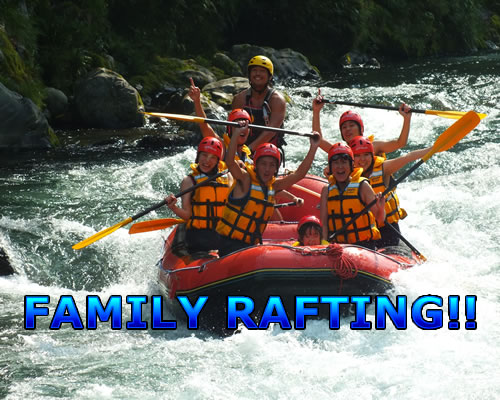 We have 2 Australian guide as well as Japanese guides with varying degrees of English but all are up for a good time!!!


For something to do on your holiday in JAPAN, or on your days off.........

ALL WELCOME !! Come have some fun with us !!!

1/2 DAY RAFTING
Half day rafting is approximately 1 and half to 2 hours on the Tama River. This includes wetsuits and all safety equipment, RAJ quilified river guide (comes with a free smile!!) and of course a Raft!! Footwear is a requirement so we recommend that you bring some old runners or something of the like that will hold onto your heel and that you are prepared to get wet!!
Half day rafting is apporoximately 1 and half-2 hours on the Tama River.
AM 9:00~12:00
PM 13:30~17:00




FULL DAY RAFTING
This tour starts around 9am and usually finishes at around 5pm. Pretty much the same as Half day rafting except you spend longer on the river and take out further downsteam!!!
Lunch is included, We usually have a lunch box on the bank of the river.

FULL DAY TOUR 9:00~17:00


HYDROSPEEDING
Hydrospeeding is a half day tour done on a small raft that you lie on top of, this is a great experience as you are close to the water and really get to fell the power of the river.
We do activities like"River Surfing" and/or rock jumping on our way down the Tama river.
Sorry little ones! We can only take you if you are over the age of 12!!!


11:00~14:30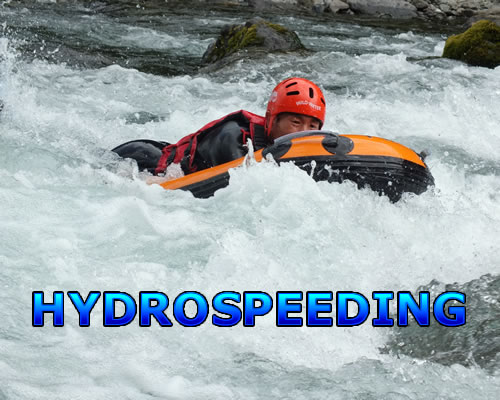 DOUBLE ADVENTURE
Why don't you try both!!??
You can combine Rafting with hydospeeding to do a "Double Adventure". As with the full day rafting trip lunch is included :-)

DOUBLE ADVENTURE 9:00~17:00
When are we open?
Tour times
We are open everyday!! make a booking soon to secure your preffered day as we may be booked out!!
Morning (AM) ・・・ 9:00~12:00(Please arrive at 8:50)
Afternoon (PM) ・・・13:30~17:00(Please arrive at 13:20)
Prices?
Meeting place

RAFTING - Adult: 4/19~11/09 : Week day - 7,000 yen. Week end/Public Hol - 8,000 yen, 8/9~8/17 : 8,500 yen
Kids in elementry school: 5,000 yen
HYDROSPEEDING -Week day - 8,000 yen. Week end/Public Hol, and 8/9~8/17- 9,000 yen
DOUBLE ADVENTURE - Adult: 4/19~11/9 : Week day - 14,000 yen. Week end/Public Hol and 8/9~8/17- 15,000 yen,
ONE DAY TOUR - Adult : Week day 12,000 yen, Week end 14,000 yen. Kids week day/week end 10,000 yen ( Not operating 7/18~9/28)
If you book online recieve a 200 yen discount.

Tour price includes Tax, rental of equipment (not hire shoes), guide and insurance

Minimum age and physical requirements

RAFTING - Minimum age requirement is for the child to be in elementry school, physical requirements are to be healthy.

HYDROSPEEDING - Minimum age requirement is for the child to be in junior high school, physical requirements are to be healthy

What you need to bring.
Swimmers, towel, shoes you are prepared to get wet (no sandals, no crocs) and a big smile
If you do not have any shoes you are prepared to get wet we have hire shoes for an extra cost of 300 yen
If you wear contact lenses please bring some goggles or a disposable set (we would hate you to lose your expensive contacts!!!)
If you wear glasses please bring a sports strap so they dont fall off your face and sink to the bottom of the river!!!
Booking and Cancellations
●For all of our tours you HAVE TO make a booking. When we reach our capacity we will close off this tour date.

●If you cancel 11 days before the day of your tour you will not lose a single yen!!! If you cancel 10-7 days before your tour you will be charged a 10% cancellation fee. If you cancel 6-2 days before your tour you will be charged a 30% cancellation fee. If you cancel the day before your tour you will be charged a 50% cancellation fee. if you cancel on the day of your tour you will charged a 100% cancellation fee.

●If you any reason we have to cancel the tour due to abnormal weather/river conditions or anything beyond our control you will recieve a 100% refund.
Important Information
●If you have long finger nail there is a risk of them being damaged/ bent back on the tour. We recomend you cut your fingernails before coming on tour, if not you will have to wear some really unfashionable gloves! and the risk still exists!!

●If you have serious medical conditions that will effect your rafting ability, are preganant, under the influence of drugs or alcohol or severely hung over you will be refused entry to these tours

●Rafting is an adventure sport undertaken in the outdoors, with tours being conducted in the outdoors there are certain elements that are beyond our control, our guides are highly trained in this environment and all hold first aid certificates of varying levels to provide you with the safest experience possible

●Rafting is an adventure team sport, when rafting with forest & water you must always listern and obey the rafting and safety instructions of your guide. You will also be required to waiver of liability formstating that rafting has inherent risks and you take complete responsibility for you actions in the case of an incident