HOME > RAFTING
FOREST & WATER NATURE GUIDES ARE SPECIALISTS WHEN IT COMES TO OUTDOOR SPORTS
What is rafting?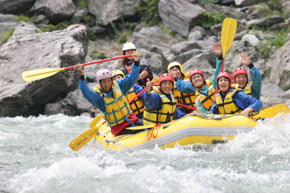 Rafting is a hugely popular water sport. Eight people paddle down whitewater rapids in a rubber boat, combining all their spirit and strength together as a team.
Everyone in the raft enjoys the beautiful sounds of nature, the singing of the birds, the murmuring of the river, totally relaxed while the boat flows by itself, gently down the river!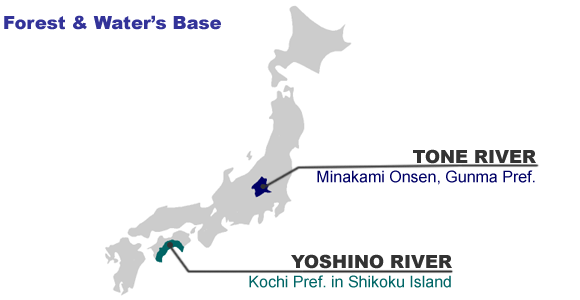 Rafting Tours
Forest & Water provides Half-Day Rafting Tours, Full-Day Rafting Tours, and many other tours with a variety of choices related to the sport of river exploration.

Please contact us for further information.
TONE RIVER (Minakami Onsen, Gunma Pref.)
The Tone River in Gunma Prefecture is the largest river in Japan, with gorgeous natural ravines up stream, wide-open scenery downstream, and a variety of changing scenery during the 4 seasons.

From early April to June, during the spring melt from Minakami's surrounding Tanigawa Mountain Range, you can enjoy dynamic rafting with the river flowing at its fullest.

We have many fun tours that families can enjoy, which are available from July when the water is not as fast. You can also enjoy canyoning and canoeing with one of our Double Adventure Packages.




YOSHINO RIVER (Kochi Pref. in Shikoku Island)
The Yoshino River on the island of Shikoku runs through two ancient 200 million year old ravines, Oboke and Koboke, and provides exciting rafting through world class rapids.

Oboke Canyon has 5 kilometers of gigantic, strangely shaped rocks. Downstream Koboke Canyon seems rather gentle, but actually has many bends with swiftly flowing water and rapids.

A Half-Day Tour at Oboke is recommended for beginners or for those not having enough time or energy for a Full-Day Tour.

Our Full-Day Tour through Koboke Canyon will give you a compeltely satisfying rafting experience on the Yoshino River.